Bott Perfo 1775mm high Static Rack With 40pc Hook Kit
Stock Code: 16917302.11V
Product Details
This Freestanding Static Bott perfo ® Single Sided Panel Rack measures 1000mm wide x 550mm deep x 1775mm high and is designed to provide high capacity storage when used in conjunction with our range of hooks, clips and other accessories.
Supplied complete with a 40 piece hook kit, this product is manufactured in the UK and available with a 10 year warranty. The hook kit supplied consists of the following items: 5 x 75 mm double hooks, 5 x 150 mm double hooks, 5 x 56 x 20 mm U-holders, 10 x hooks, 10 x spring clips, 1 x spanner holder, 1 x saw holder, 1 x screwdriver holder, 1 x allen key holder and 1 x drill bit holder.
NB Tools are not included.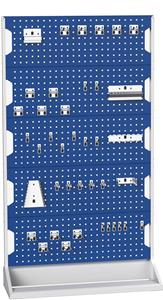 | Quantity | |
| --- | --- |
| List Price | £349.12 |
| Your Price: | £305.45 |