Bott Perfo 1775mm high Static Rack with 80pc Hook Kit
Stock Code: 16917202.11V
Product Details
This Freestanding Static Bott perfo ® panel rack measures 1000mm wide x 550mm deep x 1775mm high and is designed to provide high capacity storage when used in conjunction with our range of hooks, clips and other accessories.
This Double sided version is supplied complete with an 80 piece hook kit which consists of the following components: 15 x Hooks, 25 x Spring Clips,1 x Spanner Holder, 1 x Saw Holder, 1 x Screwdriver Holder, 1 x Allen Key Holder, 1 x Drill Bit Holder, 5 x 25mm Double Hooks, 5 x 50mm Double Hooks, 5 x 75mm Double Hooks, 5 x 100mm Double Hooks, 5 x 150mm Double Hooks, 10 x 56 x 20mm U-holders.
This product is Manufactured in the UK and available with a 10 year warranty. NB tools Not Included.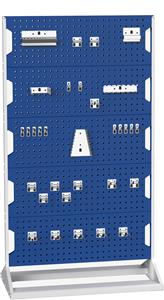 | Quantity | |
| --- | --- |
| List Price | £496.41 |
| Your Price: | £434.31 |